GO FROM ROOKIE TO TOP AGENT IN ONE YEAR!
---
You're ready to get tons of new prospects.
Hit record sales numbers in your office.
Convert prospects to clients like nobody's business.
Achieve the top agent status and lifestyle you dreamed of when you began real estate.

I'm guessing you can relate to at least some of the following...
You've wasted WAY too much time on trying to design the perfect listing presentation. And now you feel anxious about asking for listing appointments knowing you're not prepared to convert them into sellers.
You have no idea how to create a real estate pipeline that feeds you new referrals and prospects on a regular basis. You want to know how to get new business without paying crazy amounts of money that you don't have. Every time you prospect you hear crickets.
You feel super alone. It feels like everyone else has an amazing marketing plan, listing presentation, and keeps their pipeline full. But you've been left in the dust. (Trust me, you are not alone.)
The hours and money you've wasted on one-off marketing efforts that don't work is cringe-worthy. But nobody has given you a straight answer! You just want to know how to effectively generate more real estate business.
You don't even know where the hell to start. And the thought of designing a listing presentation or creating a marketing plan to fill your pipeline is making you want to punch something. This stuff is just way too complicated, and you fear it might not even be possible.

But don't worry - your days of pulling your hair out are over.
Because once you've learned how to generate leads, convert them into clients, and keep your pipeline full, you'll be able to run and scale your real estate business to levels you've never thought possible and FINALLY hit those revenue goals you've been dreaming of.
Sound too good to be true? Try this on for size:
Your database grows every day with people who already know and trust you. And they will refer business to you on a regular basis.
No more drowning in options for how to create a listing presentation. You've got a checklist and guided tour into EXACTLY what you need to include and you know exactly what to do and how to quickly convert every one of your listing appointments.
Creating an effective marketing plan no longer mystifies you OR takes up much of your time. You know EXACTLY what works for your audience, and you don't waste time on things that don't convert. #AintNobodyGotTimeForThat
Your marketing costs continually go down as your referrals go up. As you continue to master your pipeline, you get better at targeting the right people in the right way and your pipeline starts bringing you leads on a regular basis.
You're getting to work with clients who are dying to work with you. No more nervous meetings. Just comfortable, confident appointments with people who you love to work with.
Growing your pipeline is a simple, effective part of your top agent strategy. You pump out marketing with barely a thought. Or even automate and scale your results so you can get on with the work you love to do.
Most importantly, you've increased your revenue WITHOUT upping your hours, taking on nightmare clients or spending all your commissions on more crap pipe dream lead generating bullshit. Doesn't that feel good!?
Yup, it really can be THAT effective and THAT simple.
Because real estate is an industry with so much opportunity, there are TONS of ways that you can make money in an enjoyable way. It allows you to set your own schedule. Not worry about a boss. Or getting to work on time.
Sounds great. What's the catch?
The problem is that the real estate industry doesn't foster the type of environment that treats new agents very well. Sadly, they make it VERY HARD for new agents to get off on the right foot. And learning lessons the hard way most of the time, 87% of all agents don't make it past their first year.
But by making simple, yet highly effective changes to the way you START your real estate career, you can beat your competitors at their own game.
Want to know how?
INTRODUCING: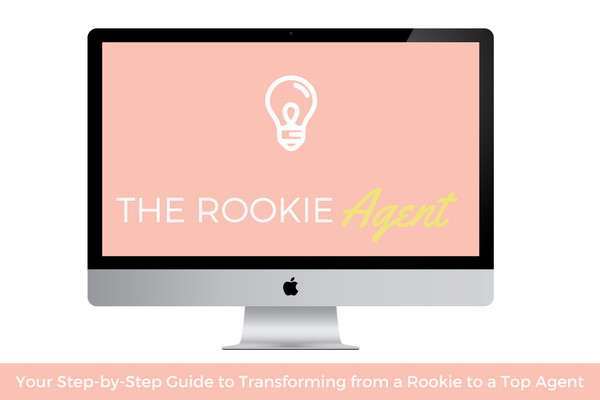 This step-by-step in depth course shows you the ENTIRE process of building your real estate pipeline, creating marketing materials that convert, and learning the ropes, so you can grow your business and make more money without losing your mind.
The Rookie Agent is more than just a course. It's an entire system, a way of thinking about how to up level your business through strategic systems, processes, and marketing. I'll teach you exactly what you need to know to lasso tons of prospects, convert them into clients, gain more referrals every year, and help your business grow like crazy!